Who are?
Well after 32+ years we have seen many members come and go, and come back; and go again. Anyways ~ we have a new page on our website which may help explain in as succint a way as possible ~ the main players! Check it out: Dramatis personæ
Or: / PICK A YEAR
5* 1998
3rd U.S. tour + Japan!
YOU ARE NOW ENTERING - THE HISTORY OF THE CANNANES


The Cannanes have been described as "the world's most indie band". Over the years they have toured extensively throughout the world and released numerous recordings available as downloadable MP3's CD's and a whole bunch of tapes, flexidisc 7" & 12" vinyl. They have also produced an autobiography, a bunch of snazzy T-Shirts; and even had their own Converse Chuck Taylor All-Star Gym Boot! Some of the back catalogue you can sometimes find at exorbitant prices on ebay and the like. Wander through an extensive history of the band using the buttons to your left. If you still haven't had enough by the end try some of the other sections of our site listed at top and links below (found only here!).
Prepare yourself for
"
1984
!"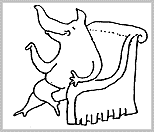 Links to other Cannanes historical stuff
"dramatis personæ"
"rolls of honour"
"bibliography"
"favourite quotes"
"gigs archive"
"interviews archive"
"song words"
"newsletter archives"
"wikipedia ~ cannanes"